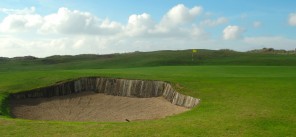 The Royal North Devon Golf Club, founded back in 1864, celebrates its 150th anniversary this year, a landmark that will highlight the history and tradition of the Atlantic Links, a collection of some of the oldest and most revered links in England.
 The six courses that form the Atlantic Links trail (www.atlantic-links.co.uk) along the dramatic backdrop of the north Atlantic coastline boast a combined age of almost 700 years with both Burnham & Berrow and St Enodoc founded in 1890, Saunton East in 1897 with the younger members, Trevose and Saunton East, having been established in 1925 and 1937 respectively.
 Royal North Devon, or Westward Ho! as it is fondly known, is not only the senior citizen of the Atlantic Links, but is also England's oldest golf course. Indeed this unique links course, set on common land on which livestock still graze today, has hardly changed in 150 years and to play it is like taking a step back in time and seeing how golf was played in Victorian England.
The club is steeped in history: it was on this course that JH Taylor, born in the village of Northam that overlooks the course, started his career as a caddie. He went on to win five Open Championships and formed one third of the great triumvirate, with Harry Vardon and James Braid, who dominated the game for some 30 years. The club honoured Taylor with club presidency in 1957 and his portrait and some of the clubs which he used to win his Open titles are still proudly displayed in the clubhouse. In fact thanks the club's heritage, the clubhouse is a veritable treasure trove of golf memorabilia, second only to that owned by The R&A.
Royal North Devon will be marking its 150th anniversary with a number of competitions during the year including the hosting of the West of England Amateur Championships (staged in April), the inaugural World Hickory Masters in August and the English County Finals in late September. A series of events and a gala evening will also take place in Anniversary Week from July 19th to 26th.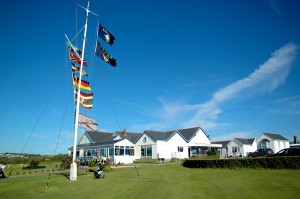 "Celebrating our 150th anniversary makes 2014 an important year for Royal North Devon as a club but we are also hoping that the occasion will highlight just how established and historical the golf courses in the Atlantic Links are in terms of golf in England," comments Mark Evans, General Manager of Royal North Devon.
"We have almost 700 years of links pedigree as a group and in terms of the quality and tradition of our courses, there really is no better links trail that offers better value than we do."

Golfers can book to play Royal North Devon in its anniversary year alongside the other Atlantic Links courses where a variety of golf packages are available or can be tailored to suit individual needs. Click on Golf Breaks.